What do you get the poker player who has everything? They already have the cards, the chips, the shades, and the snazzy signed photo of Isildur1 bought off eBay for an extortionate price. What else could they want? Full Tilt are offering a solution to this thorniest of problems, with their Gift Certificates. Starting from as little as $25, and going as high as your balance will allow, you can order these through the client.
What are the rules to get/use these certificates?
The certificate must be for at least $25, and has to be ordered through the Full Tilt Client. Your account also has to meet several criteria:
– Your account must have been fully registered, including full address registration
– If you deposited with a credit card you must have at least a 90 day history of successful depositing.
– If you deposited with Neteller, your deposit history needs to have been successful.
The certificates have a lifespan on 1 year from the date of issuance, or once applied to an account, 1 year from last activity on that account. They are also non refundable, and if you lose the information for the certificate, you lose the money.
How do I order a Full Tilt Gift Cert?
If you want to give one of these Gift Certificates to the special poker player in your life, you'll need to order one through the Full Tilt Client, but selecting the cashier, and clicking on the "Gift Certificates" button.
What will then pop up is the following box:
Select "Purchase Gift Certificate", and then enter the amount you want to send to your lucky friend.
Click OK, and then either print out the PDF document that will appear in your inbox, or email it directly to the lucky recipient.
How do I redeem a Full Tilt Poker Gift Certificate?
When you get one of these certificates, it should look something like this: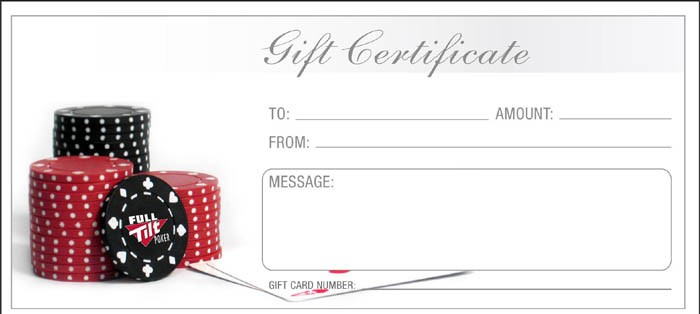 The important bit the long alpha numeric code along the bottom. This is what you need to enter into the Full Tilt Client to redeem the funds.
If you don't have a Full Tilt Account, download one here, and register your details. Once you have done this, or already have an account, select the Cashier and click on the "Gift Certificate" button.
This time, you need to select "Redeem Gift Certificate" from the box that pops up.
This will bring up the page below. You'll need to key in the long alpha numeric code on the certificate.
Wrapping it all up.
With this easy, and quick process, you may never be short of a gift for your beloved poker player ever again. Thinking about it, what would be better than getting to sit at the same table, and take it all back again? After all, what goes around, come around…
Free Full Tilt Poker Gift Certificates!
Looking for your own Full Tilt gift certificate, just for being you? We often update this page with contests and straight up giveaways where you can win your very own gift cert! How? Just keep reading…
Currently, all of our Full Tilt gift certificates have been claimed. Check back soon for our next giveaway!
Jan 27, 2013: Matt M., $25