Poker Heaven Poker Update
Poker Heaven has closed down. If you're looking to play online poker, we recommend reading our 888 Poker review. 888 is one of the most trusted poker brands and offers FTR players a $600 bonus. All links will redirect to 888.
Lancé en 2008, le logiciel téléchargeable sur Mac de PokerStars répond bien aux attentes qu'on pourrait avoir de la plus grande salle de poker en ligne du monde. Il permet aux utilisateurs de Mac de profiter de PokerStars sans avoir besoin d'une application tiers. Grâce à un véritable fichier de téléchargement .dmg, les utilisateurs de Mac verront tout de suite qu'on ne les a pas oubliés et qu'ils ont toutes les fonctions à leur disposition. Le logiciel pour Mac est mis à jour régulièrement, parce que pour tout ce qui concerne la sécurité, PokerStars n'a pas son égal.
Cliquez d'abord sur TÉLÉCHARGEMENT, puis sur « Sauvegarder le fichier ». L'assistant d'installation du logiciel se téléchargera sur votre bureau.
Si le fichier d'installation ne se lance pas automatiquement à la la fin du téléchargement, veuillez ouvrir le fichier PokerStarsInstall.pkg dans votre dossier Téléchargements (ou sur votre bureau).
Après avoir ouvert le fichier, vous trouverez PokerStarsInstall dans le même dossier (Telecharger PokerStars). Ouvrez PokerStarsInstall et le processus d'installation vous sera présenté tel que décrit ci-dessus.
Si PokerStars ne se lance pas automatiquement, double-cliquez sur l'icône PokerStars dans votre dossier de programmes. Le logiciel PokerStars sera alors lancé sur votre bureau.
Maintenant, créez cotre compte PokerStars gratuitement. Allez dans « Compte » dans la barre du menu située en haut de l'écran, puis sélectionnez « Créer un compte ». Remplissez les champs du formulaire d'inscription et veillez à utiliser une adresse email valide où nous enverrons le code de validation dont vous avez besoin.
PokerStars Marketing Code: flopturnriver
Une fois que vous êtes inscrit, nous enverrons un code de validation à l'adresse email que vous avez utilisée. Pour valider votre compte, sélectionnez « Compte » dans le menu du lobby PokerStars puis « Valider une adresse email ». Saisissez le code que vous avez reçu par email, puis cliquez sur « Valider ». Vous voici prêt à jouer !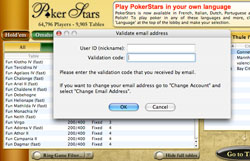 Configuration système requise pour Mac – Logiciel Client PokerStars
Matériel :
Configuration minimale requise :
PowerPC G4 ou G5 ou Intel Mac
512MB de mémoire RAM
Résolution d'écran 1024 x 768 ou plus
60MB d'espace disque disponibles
Connexion Internet bas débit 56k
Configuration recommandée :
PowerPC G4 1Ghz ou plus rapide, PowerPC G5 ou Intel Mac
1024MB de mémoire RAM
Résolution d'écran 1024 x 768 ou plus
100MB d'espace disque disponibles
Connexion Internet DSL ou câble à 128 kbps ou plus rapide
Tout comme le logiciel pour windows, le logiciel pour Mac vous permet de jouer avec de l'argent réel, ou gratuitement.