Objavljen 2008. godine, Mac softver iz PokerStars je ono što bi netko očekivao od najveće poker sobe na internetu na svijetu. To omogućava Mac korisnicima uživanje u PokerStars bez mješanja trećih strana. Koristeći pravi dmg preuzeti fajl, Mac korisnici mogu vidjeti odmah da je ovo prava stvar. Ažuriranja Mac softvera su česta, zato što je PokerStars drugi na listi po sigurnosti.
Najprije kliknite na PREUZMI, a zatim na upit odgovorite "Save File" (Spremi datoteku). Softver za instalaciju bit će spremljen na vašu radnu površinu ili u mapu Downloads (Preuzimanja).
Ako se instalacijski program nakon dovršetka preuzimanja ne pokrene automatski, otvorite datoteku PokerStarsInstall.pkg koja se nalazi u mapi Downloads (ili na radnoj površini).
Nakon otvaranja datoteke u istoj ćete mapi pronaći PokerStarsInstall. Otvorite PokerStarsInstall i prikazat će se gore opisani instalacijski postupak.
Ako se PokerStars nije pokrenuo automatski, dva puta kliknite na ikonu PokerStars u mapi Applications (Programi). Sada će se softver PokerStars pokrenuti na radnoj površini.
Sada izradite svoj besplatni PokerStars račun. Odaberite "Račun" na traci izbornika na vrhu zaslona te na padajućem izborniku odaberite "Izradi račun". Ispunite potrebna polja u obrascu za registraciju i provjerite jeste li upisali valjanu e-mail adresu. Na tu ćemo vam e-mail adresu poslati kôd za ovjeru radi dovršetka izrade računa.
PokerStars Marketing Code: flopturnriver
Nakon registracije poslat ćemo vam kôd za ovjeru e-mail adrese koju ste naveli u 4. koraku. Za ovjeru računa odaberite "Račun" na traci izbornika na vrhu zaslona i zatim "Ovjeri adresu e-pošte". Upišite kôd koji ste primili e-mailom i pritisnite "Ovjeri". Sada ste spremni za igranje!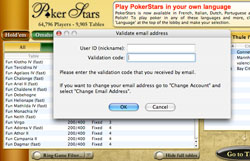 Softver PokerStars za Mac – program za igranje pokera
Softver: Mac OS X 10.4.10 ili noviji
Hardver: Minimalna konfiguracija sustava:
PowerPC G4 ili G5 ili Intel Mac
512 MB RAM memorije
razlučivost zaslona 1024 x 768 ili viša
60 MB slobodnog prostora na disku
internetska veza modemom brzine 56 k
Preporučena konfiguracija sustava:
PowerPC G4 1 GHz ili brži, PowerPC G5 ili Intel Mac

1024 MB RAM memorije

razlučivost zaslona 1024 x 768 ili viša

100 MB slobodnog prostora na disku

internetska veza: modem 128 kbps ili brži DSL ili kabelska veza
Kao što je to slučaj sa Windows softverom, Mac takodjer dopušta igranje za pravi novac i besplatno.