Poker Heaven Poker Update
Poker Heaven has closed down. If you're looking to play online poker, we recommend reading our 888 Poker review. 888 is one of the most trusted poker brands and offers FTR players a $600 bonus. All links will redirect to 888.
Lanciato nel 2008, il software Mac scaricabile da PokerStars è quello che ci si aspetta dalla sala da poker online più grande del mondo. Esso consente agli utenti Mac di godere di PokerStars senza applicazioni di terzi. Usando un vero file di download .dmg gli utenti Mac possono vedere subito che questo è il vero poker. Gli aggiornamenti del software Mac sono frequenti perché PokerStars non è secondo a nessuno quando si tratta di sicurezza.
Per prima cosa clicca su DOWNLOAD e quindi su "Salva File". Il software verrà scaricato sul tuo desktop.
Se il file d'installazione non si apre automaticamente dopo il download, apri il file PokerStarsInstallIT.pkg presente nella tua cartella Downloads (o sul tuo desktop).
Dopo l'apertura del file, troverai un PokerStarsInstallIT nella stessa cartella. Apri PokerStarsInstallIT ed inizierà il processo di installazione descritto sopra
Fai doppio click sull'icona di PokerStars nella tua cartella Applicazioni. Il software di PokerStars verrà lanciato sul tuo desktop
Per creare il tuo account PokerStars gratuito, seleziona "Crea Account" dal menu "Account" nella lobby di PokerStars. Compila il modulo di registrazione riempiendo i campi richiesti. Assicurati di inserire un indirizzo e-mail valido, così possiamo mandarti il codice di convalida necessario per completare la registrazione.
PokerStars Marketing Code: flopturnriver
Dopo la registrazione, riceverai un codice di convalida all'indirizzo e-mail con il quale ti sei registrato. Per convalidare il tuo account, seleziona "Convalida indirizzo e-mail" dal menu "Account" nella lobby di PokerStars. Inserisci il codice ricevuto via e-mail e clicca su "Convalida". Adesso sei pronto per giocare!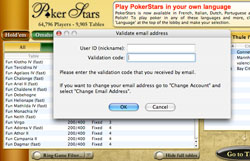 Requisiti di sistema PokerStars per Mac – Client del Poker
Software: Mac OS X 10.4.10 o successivo (pur PokerStars download)
Hardware: Configurazione di sistema minima:
PowerPC G4 o G5 o Intel Mac
512MB di RAM
Risoluzione dello schermo a 1024×768 o maggiore
60MB di spazio libero su disco
Connessione Internet: dialup a 56k
Configurazione di sistema consigliata:
PowerPC G4 1Ghz o più veloce, PowerPC G5 o Intel Mac

1024MB di RAM

Risoluzione dello schermo a 1024×768 o maggiore

100MB di spazio libero su disco

Connessione Internet: DSL/Cavo a 128 kbps o superiore
Come il software Windows, il software Mac consente il gioco sia gratuito che con vero denaro.