Pasirodžiusi rinkoje 2008 m., atsisiunčiama PokerStars programinė įranga, skirta Mac pasižymi savybėmis, kurių galima tikėtis iš didžiausio pasaulyje internetinio pokerio kambario. Programa leidžia Mac naudotojams mėgautis PokerStars be trečiųjų šalių taikomųjų programų. Naudodami tikrą .dmg atsisiuntimo failą Mac naudotojai gali įsitikinti, kad tai tikrai puikus dalykas. Mac programinė įranga dažnai atnaujinama, kadangi saugumo klausimais PokerStars kambarys yra neprilygstamas.
Pirma paspauskite ant ATSISŲSTI, po to paspauskite "Išsaugoti Failą". Programa bus atsiųsta į Jūsų darbastalį.
Jei Instaliuotojas po atsisiuntimo automatiškai nestartuoja, prašome atsidaryti PokerStarsInstallPM.pkg failą, esantį Jūsų Atsisiuntimų aplanke (arba Jūsų darbalaukyje).
Atsidarę failą, rasite PokerStarsInstallPM tame pačiameaplanke. Atidarykite PokerStarsInstallPM ir Jums bus pateiktas aukščiau pateiktas instaliavimo proceso aprašymas.
Jei PokerStars nepasileis automatiškai, dukart-papsauskite ant PokerStars piktogramos, esančios Jūsų Programų aplanke. PokerStars programa dabar pasileis Jūsų darbalaukyje.
Norėdami susikurti sabo nemokamą PokerStars sąskaitą, pasirinkite "Sukurti Sąskaitą", esančią "Sąskaitos" meniu PokerStars lobby. Užpildykite visus reikalingus laukus registratcijos formoje. Įsitikinkite, kad įvedėte galiojantį e-mail adresą, kad galėtume Jums atsiųsti reikalaujamą patvirtinimo kodą.
PokerStars Marketing Code: flopturnriver
Po užsiregistravimo gausite Jūsų registravimose metu nurodytu el. adresu patvirtinimo kodą. Tam, kad patvirtinti Jūsų sąskaitą, pasirinkite "Patvirtinti el. pašto adresą", esantį "Sąskaitos" meniu PokerStars lobby. Įveskite el. paštu gautą kodą ir paspauskite "Patvirtinti". Dabar esate pasiruošęs žaisti!.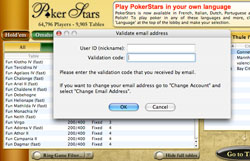 PokerStars Sistemos Reikalavimai Mac'ams - Pokerio Žaidimi klientas
Programa: Mac OS X 10.4.10 ar vėlesnė
Kompiuteris: Minimali sistemos konfigūracija:
PowerPC G4 arba G5 arba Intel Mac
512MB RAM
1024×768 ekrano rezoliucija ar geresnė
60MB laisvos disko vietos
56k dial-up Interneto ryšys
Rekomenduojama sistemos konfigūracija:
PowerPC G4 1Ghz arba greitesnis, PowerPC G5 arba Intel Mac

1024MB RAM

1024×768 ekrano rezoliucija ar geresnė

100MB laisvos disko vietos

128kbps arba greitesnis DSL arba kabelio interneto ryšys
Kaip ir "Windows", "Mac" programinė įranga suteikia galimybę lošti tiek nemokamai, tiek iš tikrų pinigų.