Uitgebracht in 2008 is de downloadbare software voor Mac van PokerStars echt wat je kunt verwachten van de grootste online pokerroom ter wereld. Het geeft Mac gebruikers de mogelijkheid om van de spellen van PokerStars te genieten zonder hiervoor software van derden nodig te hebben. Door het echte .dmg bestand dat gedownload wordt weten Mac gebruikers direct dat het om echte Mac software gaat. De updates voor de Mac software komen geregeld omdat PokerStars de absolute top is op het gebied van beveiliging.
Klik eerst op DOWNLOAD, en daarna zodra daarom gevraagd wordt op 'Opslaan'. De installatiesoftware zal nu naar je desktop of je map 'Downloads' gedownload worden.
Als de Installatie niet automatisch begint nadat de download voltooid is, open dan het bestand PokerStarsInstallPM.pkg (PokerStars download) in je map met downloads (of je bureaublad).
Nadat je het bestand geopend hebt zie je in dezelfde map PokerStarsInstallPM. Open PokerStarsInstallPM en het hierboven beschreven installatieproces begint alsnog.
Als PokerStars niet automatisch is opgestart dubbelklik dan op het PokerStarsicoon in je map 'Applicaties'. De PokerStarssoftware
Creëer nu je gratis PokerStarsaccount. Klik in de menubalk bovenaan het scherm op 'Account' en selecteer hierna 'Account Creëren'. Vul de verplichte velden van het registratieformulier in en zorg dat je een geldig e-mailadres gebruikt. We zullen de validatiecode die je nodig hebt om het creëren van je account af te ronden naar dat e-mailadres versturen.
PokerStars Marketing Code: flopturnriver
Nadat je je hebt geregistreerd zullen we een validatiecode naar het e-mailadres dat je in Stap 4 gebruikt hebt sturen. Om je account te valideren ga je naar de menubalk bovenaan het scherm en selecteer je 'Account', en vervolgens 'E-mailadres Valideren'. Voer de code die je ontvangen hebt per e-mail in en klik dan op 'Valideren'. Nu ben je klaar om te spelen!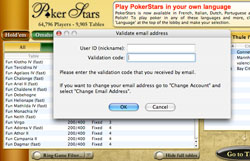 PokerStars Systeemvereisten voor Macs - Pokerclient
Software: Mac OS X 10.4.10 of hoger
Hardware:
Minimale systeemconfiguratie:
PowerPC G4, G5 of Intel Mac
512MB RAM
1024×768 schermresolutie of beter
60MB vrij beschikbare schijfruimte
56k inbel internetverbinding
Aanbevolen systeemconfiguratie:
PowerPC G4 1Ghz of sneller, PowerPC G5 of Intel Mac
1024MB RAM
1024×768 schermresolutie of beter
100MB vrij beschikbare schijfruimte
128kbps of snellere DSL- of kabelinternetverbinding
Net als de Windows software kan met de Mac software zowel gratis als met echt geld gespeeld worden.