System Requirements
The WSOP.com download is available for Windows and Mac operating systems, as well as mobile clients.
Minimum system requirements are as follows:
Windows
OS – Windows XP or later
CPU – Pentium 1.8 GHz (or AMD equivalent)
RAM – 760 Mb
HD – 50Mb available
Mac
OS version: Mac OS X 10.6.8
CPU: 2.4 GHz Intel Core 2 Duo
Memory: 4GB DDR2 667 MHz
Download, Installation & Creating an Account
If you don't yet have the WSOP.com client downloaded, click here to start.
The installation is quick and easy. Once you've downloaded the WSOP.com poker client from one of our links, double-click on the WSOP.exe icon that should be visible from your browser's window to begin the installation process. If, for any reason you cannot see the icon on your screen, you will find the file in your default Download location.
This will start the download wizard which will take a minute or two to extract all the files and then move on to the installation.
When the download wizard has done its magic, read the terms of WSOP.com service agreement on a screen that appears and click "I Agree" to continue.
This will present the setup screen, in which you can select the program's startup options and a destination location on your computer. After completing your selections, or leaving the defaults, click "Install" to proceed.
The next screen will indicate the progress of the installation process that should take only a minute or two to complete. Click on the "Next" button when it becomes available.
This essentially starts the poker client and first takes you to the registration screen, which will also become your login screen when starting the WSOP.com poker client.
Geolocation Verification
Due to the restriction of only providing real money games to users physically located within your state's borders, WSOP. com has to verify your physical location. This is accomplished by establishing connection with your cell phone and verifying the origin of the signal. For that reason, you need to provide your cell phone number during registration and an SMS will be sent to your phone. Once you reply 'Yes' to the SMS the site will be able to confirm your location and allow access to real money action. The geolocation service will also be periodically used while you are logged in to your WSOP.com account to verify that you are playing within the state. To make sure that the playing session goes uninterrupted, have your cell phone switched ON and that you have a signal while playing.
Software Overview
WSOP.com NJ offers a sleek poker client powered by Dragonsfish engine, property of 888 Poker, that has operated it successfully on its sites for years. The software comes loaded with features and little niceties that make it easy and a joy to use.
The first thing that grabs attention is the lightning speed of navigation and screen refreshes. Any time you apply a filter or click a button you will see the updated, or next screen instantaneously. This is definitely a sign of the cutting edge "postback" programming technology, which most sites, including many poker clients, do not yet possess.
The lobby is your gateway to all action, game settings, viewing options, promotions, support and anything else you will conceivably need not to only play poker here, but have fun doing it. Lobby comes in four customizable views, Beginner, Quick Seat, All Games, and My Favorites. These different views are, basically, there for you to decide what type and how much information you would like to see displayed about the action on the site.
Once you get to the table, you will appreciate the usefulness of player notes, select your seat option, color-coded action buttons, hand replayer, and the lobby access button. Table and deck layouts can be also customized via Settings, where you can also select or upload your avatar.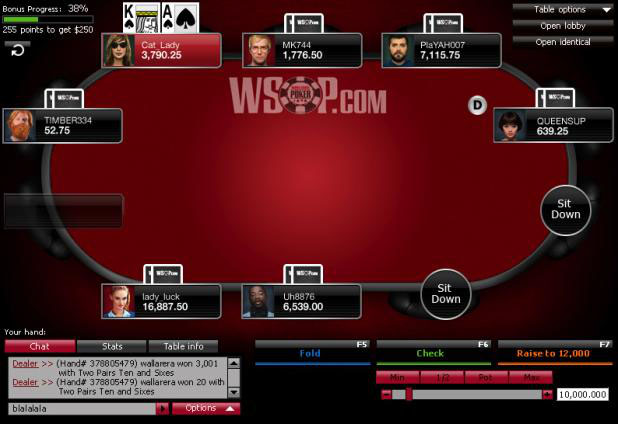 Graphics on the site are crisp and visually appealing, with pleasant colors and nice transitions. Button placement is very logical and convenient.